Description
June 15th from 10am – 12pm ::: $30
Tapping (Emotional Freedom Technique) is a self-healing tool that uses a sequence of light physical "tapping" on external acupressure points.
In this 2-hour interactive workshop, you will learn, practice, and explore how this tool can be utilized in a variety of situations; from physical pain and negative emotions, to stress, anxiety and PTSD.
If you're not quite sure about what EFT is, check out this article!
INSTRUCTOR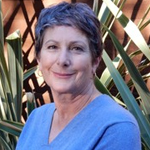 Beryl Ryan is a Registered Nurse who combines her experience working in hospitals and correctional facilities with her education on tapping and the body's innate ability to heal itself.  She specializes in PTSD, Trauma and Phobias, although Tapping – EFT is effective in many varied situations.
Event Details
Start date: June 15, 2019
End date: June 15, 2019
Start time: 10:00 a.m.
End time: 12:00 p.m.
Venue: Solar Living Institute - Classroom Yurt
Phone: 707-472-2456
Email: sli@solarliving.org