Description
July 6th ::: 1pm-4pm ::: $45
Summer Pruning & Rooting Cuttings
This 3-hour interactive workshop will be held in the 1-acre forest garden at the Crabtree Ranch 4 miles north of Upper Lake (more information in the Instructors section below). During the workshop, students will be taught the principles of summer fruit tree pruning and given the opportunity to practice this skill. Pruning during dormancy will also be discussed and examples provided.
Combined with this workshop will be instruction on rooting cuttings to create new plants. Students will be shown simple methods to root cuttings and will have the option to take a cutting box home with cuttings of goji berry, rosemary and lavender. Strawberry and raspberry plants for rooting will also be available!
You will need to bring your own pruning shears to this workshop.
Consider combining this workshop with the morning workshop on composting methods and bring a picnic lunch! Free camping is available; please schedule in advance.
WORKSHOP OBJECTIVES
By the end of this workshop you will be able to:
• Determine where and when to make thinning cuts and heading cuts
• Make decisions on strategy to shape a tree
• Tell the difference between softwood, semi-hardwood and hardwood cuttings
• Prepare a cutting box for rooting cuttings
• Successfully grow new plants from cuttings and tip rooting
COURSE TOPICS
• Pruning techniques, timing and tools
• Propagation from cuttings
• Propagation from tip rooting
ABOUT CRABTREE RANCH
Here's your chance to see permaculture design and regenerative agriculture in action! You will see installations of plant guilds, hugelkulture mounds, keyhole plantings and drip irrigation and more. You will be able to ask questions about design features waiting to be implemented. You will see free-range chickens, pasture hogs and goats living peaceably together. Free camping is available; please schedule in advance.
INSTRUCTORS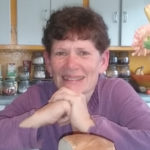 Brad and Landa Roon have been gardening and growing their own plants for over 40 years. As avid gardeners and permaculture advocates, they are well versed in all forms of plant propagation and management, as well as regenerative agriculture methods.
Event Details
Start date: July 06, 2019
End date: July 06, 2019
Start time: 01:00 p.m.
End time: 04:00 p.m.
Venue: Crabtree Ranch
Phone: 707-472-2456
Email: sli@solarliving.org