Gardening: Soils, Seeds, & Nutritional Needs
May 4th 1pm – 4pm ::: $45
This 3-hour interactive workshop is designed for the beginning and intermediate gardener and is suitable for ages 12 and older.  Through lecture, exercises, and hands-on practice, participants will learn tips and tricks to successfully germinate and grow seeds, care for seedlings, and nurture young transplants.  Direct seeding tips and tricks will also be covered.
You will be getting your hands dirty in this workshop, so you may wish to bring gloves.
COURSE OBJECTIVES
By the end of this course you will be able to:
prepare each seed type properly for best germination
prepare soil mixes appropriate for each seed type and for all stages of growth
understand when conditions are best for germination and for transplanting
utilize methods for heating or cooling soil to best support germination and growth
provide young plants with necessary nutrition
identify some common problems and know how to correct them
get plants off to a good start after transplanting
successfully direct sow seeds in gardens or planters
COURSE TOPICS
Understanding seeds and their needs
Germination tips and tricks
Soil mixes for various stages of growth
Nutritional needs for various stages of growth
Planting containers
How and when to transplant
Avoiding transplant shock and providing protection
Direct seeding
Methods for moderating temperature fluctuations
INSTRUCTOR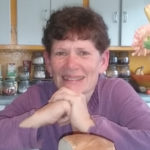 Landa Roon has been gardening and growing her own plants from seeds for over 40 years.  As an avid gardener and permaculture advocate, Landa is well versed in all forms of plant propagation and enjoys expanding her knowledge through experimentation in her greenhouse, yard, and 1-acre food forest garden.
---
Description
Event Details
Start date: May 04, 2019
End date: May 04, 2019
Start time: 13:00
End time: 16:00
Venue: Solar Living Institute - Classroom Yurt
Phone: 707-472-2456
Email: sli@solarliving.org