Description
July 6th ::: 9am-12pm ::: $45
Composting Made Easy

This 3-hour interactive workshop will be held at the Crabtree Ranch 4 miles north of Upper Lake (more information below).  During the workshop, students will be taught the principles of composting, followed by instruction on these 6 methods of composting:
1.    Vermiculture
2.    Bokashi composting
3.    Drum composting
4.    Bin composting (slow method)
5.    "Lasagna" composting (medium method)
6.    18-day composting (fast method, aka Berkeley method)
All methods are currently in use at the Ranch and will be demonstrated.  Students will participate in turning a compost pile and building a new pile for the Berkeley method.
You might want to bring gloves to this workshop for the hands-on portion.
Consider combining this workshop with the afternoon workshop on pruning and plant propagation by rooting cuttings.  Bring a picnic lunch!
WORKSHOP OBJECTIVES
By the end of this workshop you will be able to:
•    Determine what method(s) might work for you to implement at home
•    Set up a vermiculture composting bin
•    Create a compost pile that fits your style
•    Adjust your compost pile to speed up composting
COURSE TOPICS
•    6 methods of composting
•    Nitrogen vs Carbon
•    Key components of active composting
•    How to keep your components composting actively
ABOUT CRABTREE RANCH
Here's your chance to see permaculture design and regenerative agriculture in action!  You will see installations of plant guilds, hugelkulture mounds, keyhole plantings and drip irrigation and more.  You will be able to ask questions about design features waiting to be implemented.  You will see free-range chickens, pasture hogs and goats living peaceably together.  Free camping is available; please schedule in advance.
INSTRUCTORS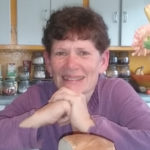 Brad and Landa Roon have been gardening and growing their own plants for over 40 years.  As avid gardeners and permaculture advocates, they are well versed in all forms of plant propagation and management, as well as regenerative agriculture methods.
Event Details
Start date: July 06, 2019
End date: July 06, 2019
Start time: 09:00 a.m.
End time: 12:00 p.m.
Venue: Crabtree Ranch
Phone: 707-472-2456
Email: sli@solarliving.org