Food Preparation: Healthy Treats for Dogs & Cats
May 22nd 3pm – 5pm ::: $30
This 3-hour interactive workshop is designed for anyone who loves a pet and doesn't want to feed it commercially processed treats that may contribute to health issues.
COURSE OBJECTIVES
By the end of this course you will be able to make delicious and healthy treats your pet will love!  You will also be given guidance to help you determine if your pet has a food intolerance or allergy, and you will walk away with a variety of recipes to make for your loved ones!
COURSE TOPICS
Typical ingredients in commercially prepared treats that may damage your pet's health
Indications of food intolerance or allergies
How to make treats without fillers, added colors, preservatives, or artificial flavorings
Tips & tricks for the best treats
If you must buy commercial products… making wise choices
INSTRUCTOR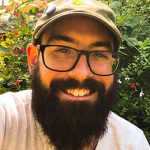 Brad Elliott has been an animal lover all his life and is known to be a cat whisperer. He lives with 3 cats (Randy, Mister, and Paisley) and 3 chickens (Sensual Nighttime, Sensual Daytime, and Eggy Pop) on an off-grid biodynamic farm in Hopland, CA. In his spare time, Brad enjoys working in the vineyards, olive groves, and gardens at the farm. His cat Molly, who recently passed, lived to be 23 years old.
---
Event Details
Start date: May 22, 2019
End date: May 22, 2019
Start time: 15:00
End time: 17:00
Venue: Solar Living Institute - Kitchen Yurt
Phone: 707-472-2456
Email: sli@solarliving.org