Description
Watercolor on Hemp with Cathy Lee will walk participants of all artistic backgrounds through a step-by-step interactive and demonstrative workshop of painting with watercolor paints on hemp paper, a sustainable alternative to tree paper. Each student will leave with a completed painting and a better understanding of the basic art process from drawing to color mixing to layering on hemp.
In this hands-on workshop, students will participate in:
– Drawing & doodling exercises
– Color Theory – color balancing, composition, tone
– Coloring Mixing – color wheel study, primary/ secondary
– Collaborative Painting – interactive group exercise
– Drying & Layering – drying and layering with multimedia
– Open Art Studio
Artist Biography: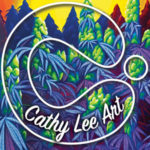 Cathy Lee is a professional cannabis artist, specializing in oil painting. Since the age of 5, Lee has been heavily influenced by comic books, cartoons, graffit
i art, and photography. In 2009, she launched her professional art business called, "Cathy Lee Art," where she combines her accumulated skills and talents to create a visual experience on canvas. Lee hand mixes all of her paints from scratch, and builds her own stretched canvases. Through this process, she builds a deeper connection with each piece she creates. Lee's cannabis art series combines her two loves: oil painting and cannabis. By incorporating her techniques of color, tonality, and style, she paints cannabis to display its sheer aesthetic beauty. Please visit her website for more updates: www.instagram.com/CathyLeeArt.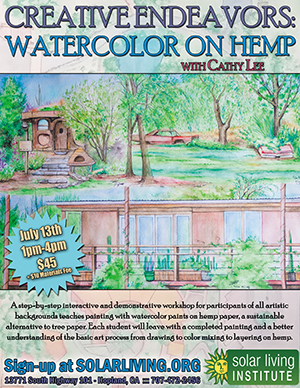 Event Details
Start date: July 13, 2019
End date: July 13, 2019
Start time: 01:00 p.m.
End time: 04:00 p.m.
Venue: Solar Living Institute - Classroom Yurt
Phone: 707-472-2456
Email: sli@solarliving.org