Description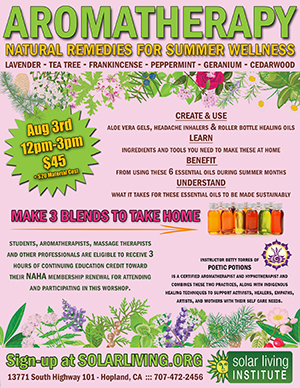 Have fun creating all natural summertime aromatherapy products. In this interactive workshop you will make an aloe vera sunburn gel, headache relief inhaler and a roller bottle remedy for bug bites using essential oils of lavender, tea tree, frankincense, peppermint, geranium and cedarwood. Get to know these essential oils in a new and empowering way. Learn their versatile benefits, how they are made, where they come from and what actions you can take for conservation and  sustainability of essential oil bearing plants. Each participant will be eligible to receive 3 hours of Continuing Education credit for attending and participating in this worshop. 3 hours of CE's may be used by students, aromatherapists, massage therapists and other professionals toward their NAHA membership renewal.
– Learn how to use essentials oil safely and effectively on a holistic level.
– Create and use an aloe vera gel, headache inhaler and a roller bottle healing oil.
– Find out what ingredients and tools you need to make these for yourself at home.
– Understand the benefits of lavender, tea tree, frankincense, peppermint, geranium and cedarwood essential oils for mind, body and soul.
– Gain a new appreciation of what it takes for these essential oils to be made and what actions can be taken to make them sustainability.
Instructor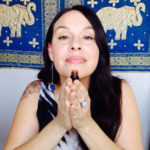 Betty Torres is a certified aromatherapist and hypnotherapist and combines these two practices, along with indigenous healing techniques to support activists, healers, empaths, artists and mothers with their self care needs. Having a passion for making a positive impact in the world, she creates safe spaces for powerful change makers and leaders to express themselves, reflect on who they are, feel rejuvenated and replenished in order to go back out into the world and be of service to others.
Event Details
Start date: August 03, 2019
End date: August 03, 2019
Start time: 12:00 p.m.
End time: 03:00 p.m.
Venue: Solar Living Institute - Kitchen Yurt
Phone: 707-472-2456
Email: sli@solarliving.org