Natural Building: Build a Cob Wall
May 18th 1pm – 5pm ::: $60
Cob is a true "back-to-the-earth" method of building construction that is easy and fun!  In this hands on, 4-hour workshop, you will participate in building a cob wall as part of our new Mushroom Dome.
COURSE OBJECTIVES
By the end of the workshop, you will know:
The fundamentals of building with cob
Environmental, cost, health & energy benefits
Correct clay-sand-straw ratio for durable cob
Methods for weatherproofing
Application tips & tricks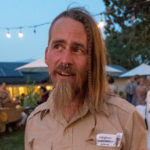 Rye N. Flint is a mycologist, natural builder, permaculturist, solar technician, and all around fun guy who loves to share his knowledge and experience with others.  With Rye as your instructor, you can be sure to both come away with loads of information and have an experience to remember!
---
Event Details
Start date: May 18, 2019
End date: May 18, 2019
Start time: 13:00
End time: 18:00
Venue: Solar Living Institute
Phone: 707-472-2456
Email: sli@solarliving.org