Description
Where the Pigs Roam, the Ecology and Tracking of Feral Pigs in Hopland
Come join us and learn to read the stories of the land left by feral pigs and other animals. Over this one day class we will explore the ecology and life history of feral pigs in Mendocino County. We will begin to discern pig tracks from deer tracks, as well as identifying the interesting and various different kinds of sign pigs leave on a landscape. In addition we will discuss impacts of pigs, both their challenging and potentially beneficial aspects.
About Sunhawk Farms:
Surrounding SunHawk Farms is the wild and untouched forest of Duncan Peak in Mendocino County, California. Abundant with life, our farm breathes in the untamed forest that surrounds us and breathes out a unique vitality through our lavender, fruit and nut orchards, grapes, olives, and vegetable gardens.
Behind the olive orchard – consisting of around 2,800 Tuscan varieties of olive trees – and above the vast oak and madrone forest, you'll be treated to red-tailed hawks, snowy egrets, great blue herons, and soaring bald eagles. Along the rolling hills behind Hopland, in verdant and wild Mendocino County, our grapes grow on the south-facing slopes of a bow. On it we raise several varieties of Rhone grapes, which are combined into a field blend much like the old Italians and French have done for generations.
Instructor: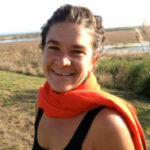 Meghan has been formally involved in ecology, conservation and environmental public outreach since her studies at UC Santa Cruz in 1993, but her passion for the land and its natural history began long before that.
Event Details
Start date: October 26, 2019
End date: October 26, 2019
Start time: 08:00 a.m.
End time: 01:00 p.m.
Venue: Sunhawk Farms
Coordinates: 2001 Duncan Springs Rd
Phone: 707-472-2456
Email: sli@solarliving.org