Solar PV Design and Installation Training (Online)
An innovative and interactive online learning approach to solar PV systems.
---
Description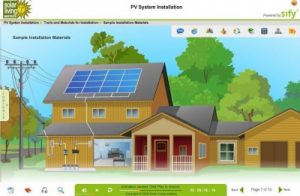 This online solar PV systems course is a highly interactive and innovative approach to learning based on the curriculum that offered in our popular in-person solar PV courses. Successful completion of this course qualifies students to take the North American Board of Certified Energy Practitioners (NABCEP) Photovoltaic Associate Exam, an important credential for the solar industry. NOTE: The Associate exam was formerly known as the entry level exam and should not be confused with the Solar Installation Professional exam and certification.
Building on basic concepts of conservation and efficiency, solar industry dynamics and fundamentals of electricity, the course covers composition of PV cells, system components, factors that impact performance, design and installation; safety is emphasized throughout. The course provides a solid foundation on which to build a career in the PV industry.
Solar PV Design and Installation Online Course Features
Continuous enrollment – register and start today!
15 interactive, scenario-based online learning modules with practice activities, integrative exercises, and assessments
Access the course for review and reference for 1 year from registration
"Ask the Expert" feature lets you get your questions answered quickly by expert instructors through email
Apply your learning in a challenging state-of-the-art PV simulation.
Discussion forums, PV installation videos, and solar PV industry reference resources
Course materials available for reference and review for 1 year after registration
Solar PV Design and Installation Online Course Topics
Conservation and efficiency
PV market, applications, and advantages
Fundamentals of electricity
PV modules
Safety
Balance of systems
Factors affecting PV performance
Grid-tied vs. off-grid PV systems
PV installation
Maintenance and troubleshooting of PV systems
Learning Outcomes
By the end of this course you will be able to:
Explain how conservation of energy benefits homeowners and renters, businesses, and PV professionals
State the advantages and disadvantages of the PV market
Understand and define the fundamentals of electricity
List the components of a PV module array and the factors that determine PV module performance
Identify all components necessary for the balance of a system
Define various terminologies related to site evaluation
Design both grid-tied and off-grid PV systems
Learn how to install a PV system, maintain it, and troubleshoot potential problems
Know all safety measures necessary during installation
Prerequisites
There are no prerequisites for this course.
Minimum Computer Requirements
Web Browser: Internet Explorer 6+, FireFox 3.0+, Chrome 2.0+, or Safari 3.1+
Flash Player
Screen Resolution: 1024 X 768 pixels
Registration Process
For pre-registration questions, call 707-472-2456 or email sli@solarliving.org.
After your payment is received, you will receive an email confirming your purchase and then a separate email from @slilivewire.com with information required to log into the online course.
If you do not receive the login information email within 24 hours, please check your email provider's spam/junk mail folder
If you have already registered for one of our other online solar training courses, you will be able to re-use your login information from the other course
Since every student needs their own course login, each registration for this course must be purchased separately
Post-Registration Technical Support
Please email livewire.helpdesk@sifycorp.com or call (210) 254-1027.
Cancellation Policy
Refunds, less a $40 processing fee, can be requested for up to (3) days following purchase assuming modules have been reviewed but not completed.