CC101:

How to Grow More Sustainable Cannabis
---
Learn how to get started in greening your growing projects. This course covers water, soil, heating, cooling, ventilation, pests, fungus, and more.
In this 1-day introductory workshop, master growers Max Meyers and Casey O'Neill will teach you the basic concepts of growing cannabis using ecological design.
---
Course Topics
Methods for growing 100% organic cannabis
How to reduce water use by up to 75%
How to reduce your dependency on bottles and products
Controlling insects and fungus naturally
---
Instructor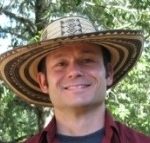 Maximillian Meyers is an experienced Ecological Designer, Permaculture Teacher, Consultant, Commercial Aquaponics System Designer/Installer, Rainwater and Greywater System specialist, Farmer, and the Executive Director of Nor Cal Aquaponics. In 2003 he founded the Mendocino Ecological Learning Center (MELC), a nonprofit educational organization and ecological reserve offering green job training and sustainable living skills to the public. In addition to the work at MELC, Mr. Meyers provides Ecological design services to the public, organizations, and schools through Osiris Designs, Nor Cal Aquaponics and Living Mandala. Mr. Meyers has instructed well over 35 courses in Permaculture and Ecological Design in 7 countries around the world. He is passionate about all things related to a more just and sustainable world. Mr. Meyers has become the world's leading expert in Aquaponics with Applied Permaculture. He has been studying, practicing and teaching Permaculture and Ecological Design for 13 years.
---
Upcoming Sessions
No upcoming events.
No upcoming sessions are scheduled, but we know more will be coming. Please check back soon!
---
Related Courses
No products were found matching your selection.