PV200:

PV Design & Installation Intensive
---
This 5-day intensive solar training course offers 40 hours of critical knowledge and hands-on practice in the essentials of photovoltaic (PV) technology. The course content has been honed through 15 years of experience and is taught by experienced industry professionals. If you are a contractor or electrician interested in expanding your business, would like to start a solar business, or just want an in-depth look into how Solar PV works, then this course is for you!

Through presentation, students will learn solar fundamentals: basic electricity, celestial mechanics, energy efficiency, solar markets and applications, system design, system components, construction safety and solar tools. Through hands-on practice, students gain experience in mounting solar panels, racking with roof penetrations, wiring inverters, DC and AC disconnects and load center/service panels.

This course is designed to meet the learning objectives in preparation for the NABCEP Photovoltaic Associate Exam. As such, the course offers an excellent foundation in solar technology and provides opportunity for hands-on training whether or not you choose to take the exam.

Course fees include a course textbook and other resource materials. Please bring a calculator, pen or pencil and note paper with you to class. Wifi is available.
---
Course Topics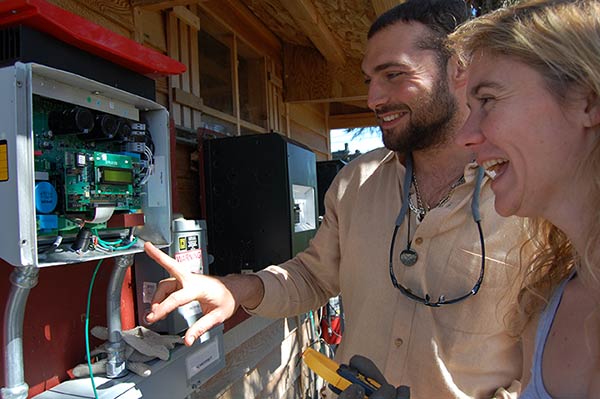 Conservation & efficiency practices
PV markets & applications
Safety basics
Electricity basics
Solar energy fundamentals
PV module fundamentals
System components
System sizing
PV electrical & mechanical design
Performance analysis & troubleshooting
---
Prerequisites
Prior to taking this course, we recommend taking our PV100 Intro to Photovoltaics course, which provides a good introduction to electricity, calculations and terminology, solar system components and how it all fits together. Call 707-472-2456 to discuss prerequisites further if you have questions.
---
Course Objectives
By the end of this course you will be able to:
Explain the benefits of energy efficiency
State the advantages and disadvantages of the PV market
Understand and define the fundamentals of electricity
List the components of a PV module array and the factors that determine PV module performance
Identify all components necessary for the balance of a system
Define various terminologies related to site evaluation
Design both Grid-Tied and Off-Grid PV systems
Learn how to install a PV system, maintain it, and troubleshoot potential problems
Know all safety measures necessary during installation
---
NABCEP Photovoltaic Associate Exam
NABCEP (North American Board of Certified Energy Practitioners) is recognized in the solar industry for setting the gold standard of quality. Students may find that taking and passing this test lends credibility as a job seeker; it also counts as 18 hours of educational credit towards the advanced Solar PV Installer Certification.
Upon completion of the PV200, students have the option to take the computer based test given year round at Castle testing centers.
---
Instructor

Dick "Paco" Jordan has been living off-grid with a solar powered electrical system since 1975. He began by working on my own system and in 1980 became a licensed building contractor. Paco began to lead off-grid solar design classes at weekend and week-long seminars before grid inter-tie solar systems were permitted in the US. He has designed and installed grid inter-tie systems that qualified for rebates under the California state rebate program and, as such, is listed as one of California's certified and qualified contractors. Paco's projects range from off-grid residential systems using only a few solar panels to grid inter-tie systems with more than 100. He's also backed up solar systems up with auto and manual start generators, wind, and micro-hydro power units.
---
Upcoming Sessions
No upcoming events.
---
Related Courses
No products were found matching your selection.