The Solar Living Institute is a registered provider of the NABCEP Associate PV exam.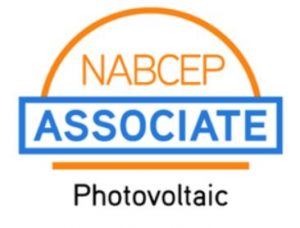 Passing the NABCEP Associate PV Exam indicates proficiency in basic terminology and concepts of PV systems and earns the credential of a NABCEP PV Associate. As the market grows for photovoltaics, students achieving this industry-sponsored Associate credential may find that their employment opportunities are enhanced by starting the job with a strong understanding of the basic terms and operational aspects of a PV system.
Read more at NABCEP's website.
---
Prerequisites
Students who have completed our PV 200 Design & Installation Intensive course are eligible to register and sit for this test.
---
Important Information
Bring a valid ID. A basic calculator and number two pencils will be provided. Students are required to read NABCEP's Associate Handbook before taking the exam in order to understand the purpose and scope of the exam. At the time of the exam, you will be required to sign a disclaimer confirming you have read this information. Review the NABCEP Learning Objectives.
Additional Information
All students must show a valid ID and sign in
Basic calculators and number 2 pencils are provided
Phones and pagers will be collected and placed outside the testing area and can be picked up when you leave
No hats, visors, or watches are to be worn during the exam
No books, pamphlets, or notepaper in your possession
No food or drink; bottled water IS permitted
Arrive about 8:45, the test begins promptly at 9:00 (late arrivals will not be admitted)
You will have 2 hours to complete the test
Your answer sheet is collected and sent directly to Castle Testing for scoring
Your test results will be provided by NABCEP via mail in 3-5 weeks
---
Cancellations
Up to 2 weeks before course start date, cancellations or modifications (eg, transferring to another course) will be charged an administrative fee of $40. Within 2 weeks of course start date, cancellations are non-refundable.
---
Instructor
The NABCEP Associate PV Exam will be given by a NABCEP test administrator.
---
Upcoming Sessions
No upcoming events.
No upcoming sessions are scheduled, but we know more will be coming. Please check back soon!
---
Related Courses
No products were found matching your selection.